Who Wore It Best? Oscars 2016 Edition
by admin.
We are at it again. Kiko and yours truly have scoured red carpet slideshows for the best of the 2016 Academy Awards fashion. This year, the women of Hollywood took a refined, controlled, and classy approach to dressing for the ceremony. Bodices were nipped to perfection, hemlines fell in wrinkle-free cascades, and embellishment stayed safely away from vision impairing limits. Except for Heidi Klum. The Project Runway host went wild with tulle but let's not discuss that further.
The Ankle-Length Dress: Alicia Vikander Vs. Daisy Ridley
It's the talented Swede against the feisty Brit in this battle for who wore the shorter hemline best. Best Supporting Actress winner Alicia Vikander swept onto the stage in a delightful, yellow Louis Vuitton dress. Daisy Ridley presented an award in a shimmering Chanel Haute Couture number
B: Both actresses looked beautiful but Alicia looked so radiant in that beaded, gathered hem Louis Vuitton. I loved the half bun on her and I do not like half buns at all. 
K: I agree that both of these girls did a good look.  However, I would go for Alicia Vikander!  That soft yellow makes her skin glow and the circular hi-lo bubble skirt is a
fabulous finish.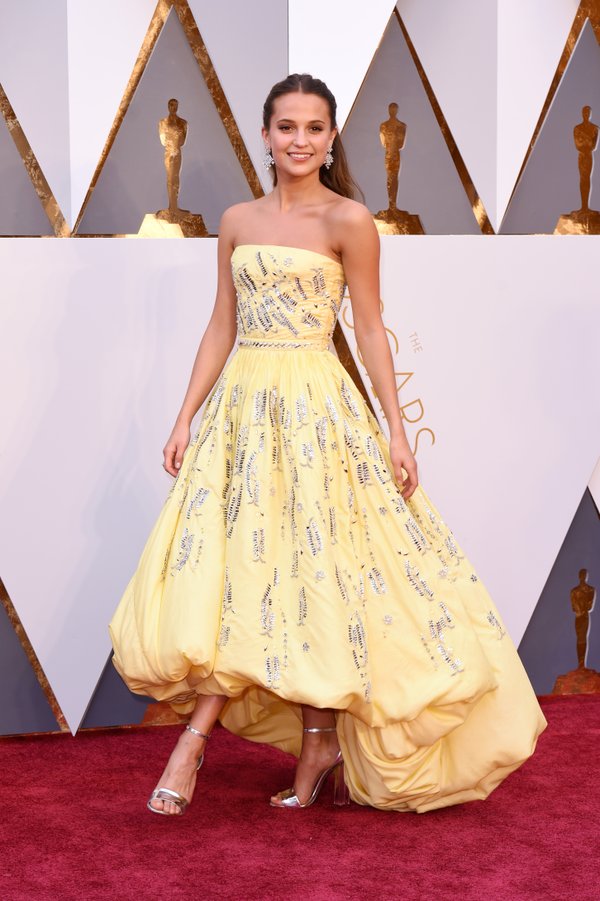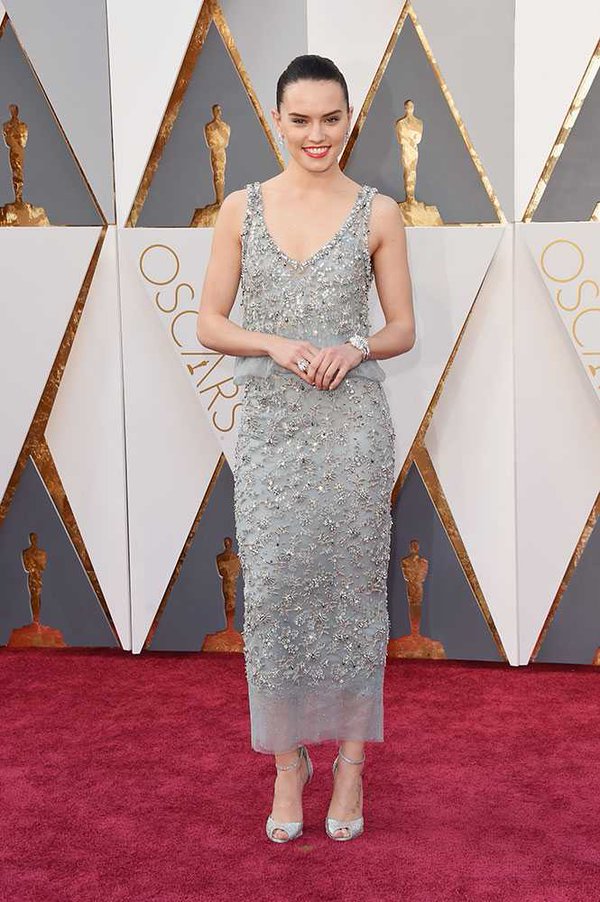 Atelier Versace Gowns: Jennifer Garner Vs. Tina Fey
Too much perfection! Will it be Jennifer Garner in black, or Tina Fey in purple? Will the draped shoulder, sweetheart neckline win, or the impeccably fitted strapless one? Neil Lane emerald earrings or Bulgari necklace?
B: This is tough so…it's a tie for me! I was so happy to see Jennifer Garner looking absolutely fabulous at the Oscars. And then I saw Tina Fey and I felt just as happy. What a coincidence that both actresses were in the hands of Donatella. The 30 Rock star has her hits and misses on the red carpet but this particular appearance was a big hit!
K: Again, I am torn with these ladies, both gorgeous!  Jennifer looks stunning but it just reminds me of Angelina Jolie, so with that being said, I will go with Tina Fey.  The asymmetric ruching, body shaping fit and purple color brought out the best of Tina.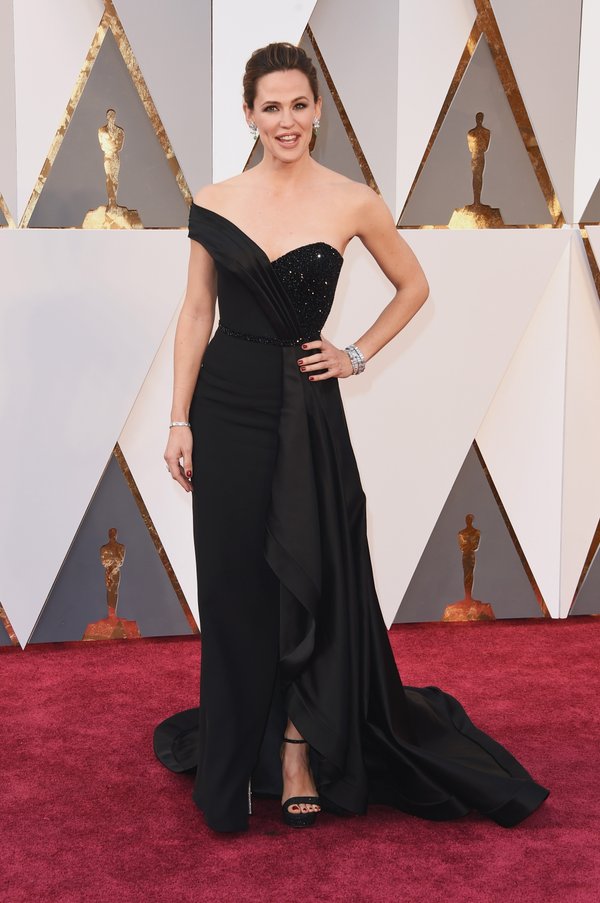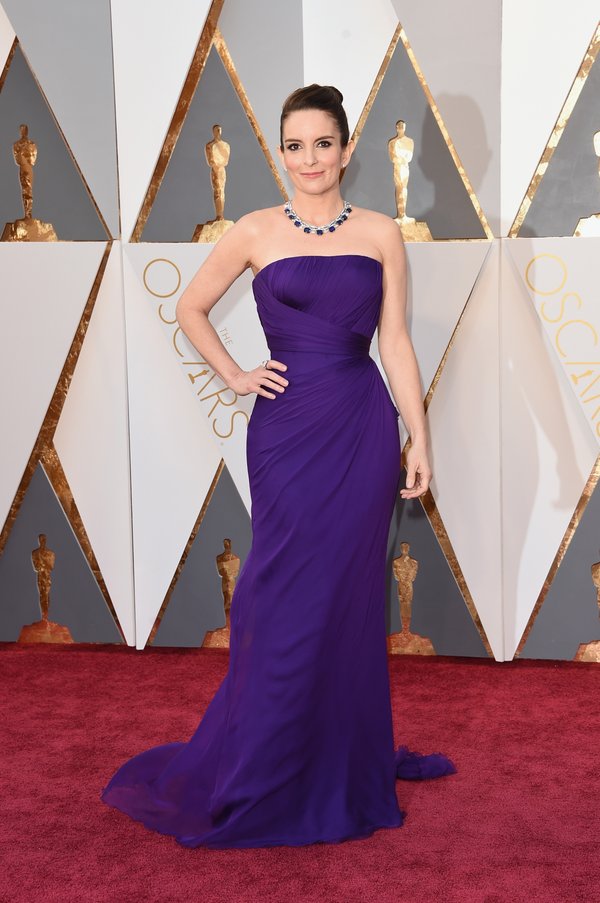 Best in Sparkle: Saoirse Ronan Vs. Naomi Watts
Brooklyn's Saoirse Ronan wore a dress fit for celebrating her Best Actress nomination. The Irish actress mader her way on the red carpet in a plunging Calvin Klein Collection gown. The emerald green dress, along with Saoirse's tousled hair made for an effortlessly sexy look. As for Naomi Watts, the Australian actress dazzled in a Swarovski crystal embellished Armani Prive gown.
B: As much as I was mesmerized by the blues and purples on  Naomi's gown, I must give Best in Sparkle to Saoirse. Everything worked beautifully for her.
K: Naomi is to die for, the monochromatic hues of blues and purple beadwork is perfection.  I would ding her for her jewelry. I would opt for sapphire or amethyst. Saorise Ronan's green dress kind of reminds me of the 70s fully beaded gown that Dionne Warwick would wear except with a revealing top.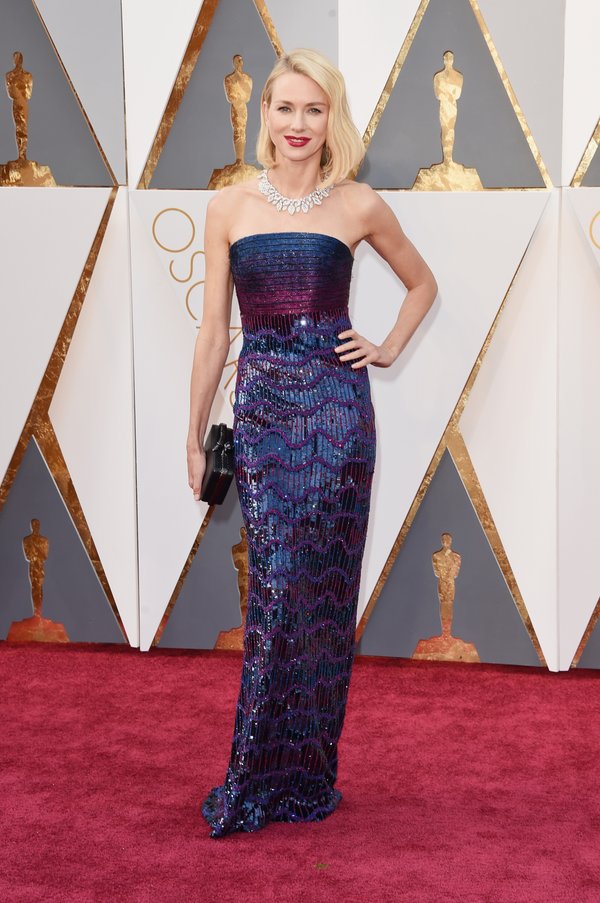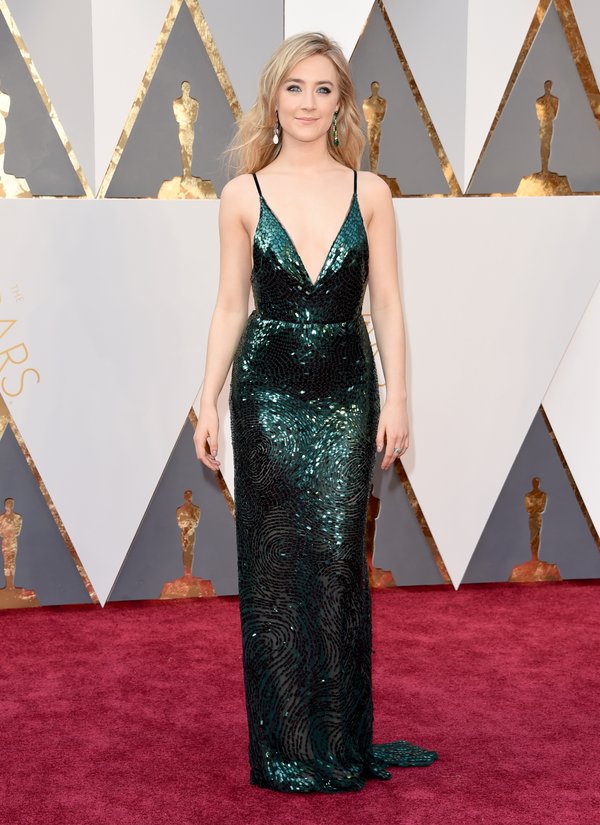 Plunging Necklines: Charlize Theron Vs. Olivia Wilde
Mad Max: Fury Road's Charlize Theron in red Dior squared off with Olivia Wilde in white Valentino. Charlize was a commanding presence in her dress, with its neckline plunging down to her waist, her Harry Winston pendant almost grazing her bellybutton. Olivia played both angel and devil in demure pleats that revealed more than just a hint of skin.
B: Sorry Olivia, but Charlize sashayed her way to victory in this style battle. 
K: Charlize's red jaw dropping low V-neck has that classic shape and it is my choice. I commend Valentino's play on the pleats, I just think     it's too much breast exposure for Olivia. I am not a fan of side boob exposure.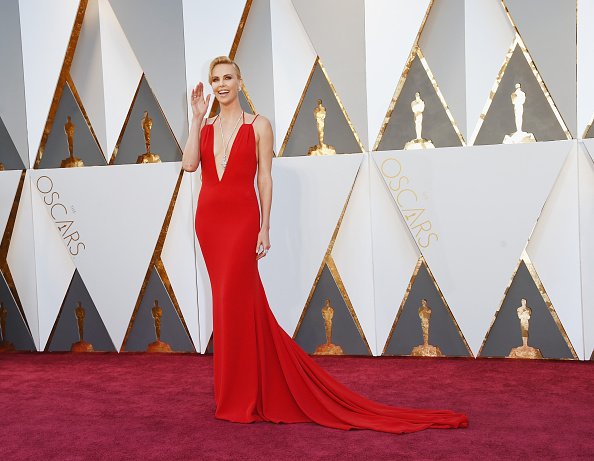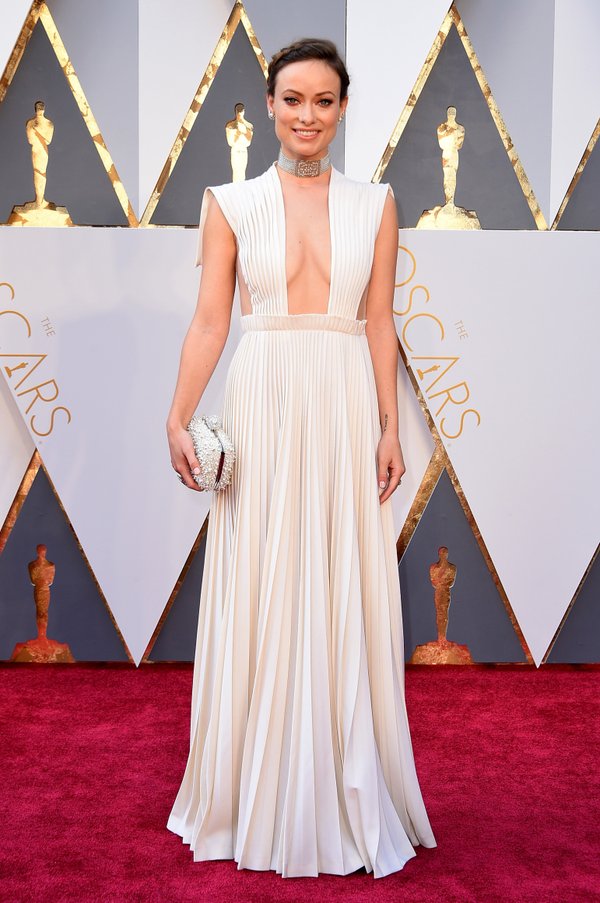 Lace Wars: Rooney Mara Vs. Jennifer Lawrence
Rooney Mara has found her signature style with all the Givenchy she favors. For Oscar night, The Carol actress chose a couture gown in a delicate gray hue. The long-sleeved dress featured a cut-out at the waist and gorgeous embroidery and lace. Joy star Jennifer Lawrence chose sheer, black lace. She paired her Dior gown with a simple Chopard necklace.
B: Sadly, both Rooney and Jennifer's dresses felt underwhelming. Extra points for both their hairstyles though. Jennifer rocked a polished lob and Rooney's multiple buns made for a slick look. 
K: I love Rooney Mara's choice, the delicate lace nude look by Givenchy gave her a clean yet sexy and fierce look. I am not sure what's wrong with Jennifer Lawrence, is it the dress or her hair … I don't think it's complimenting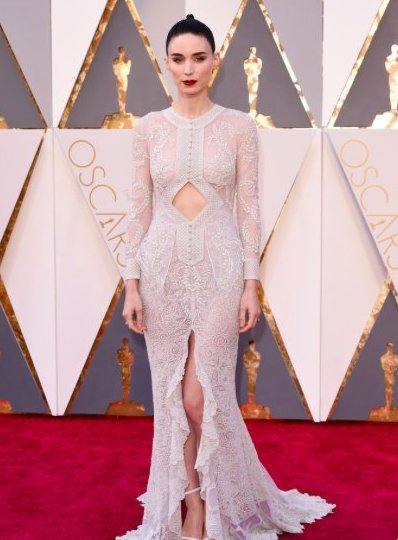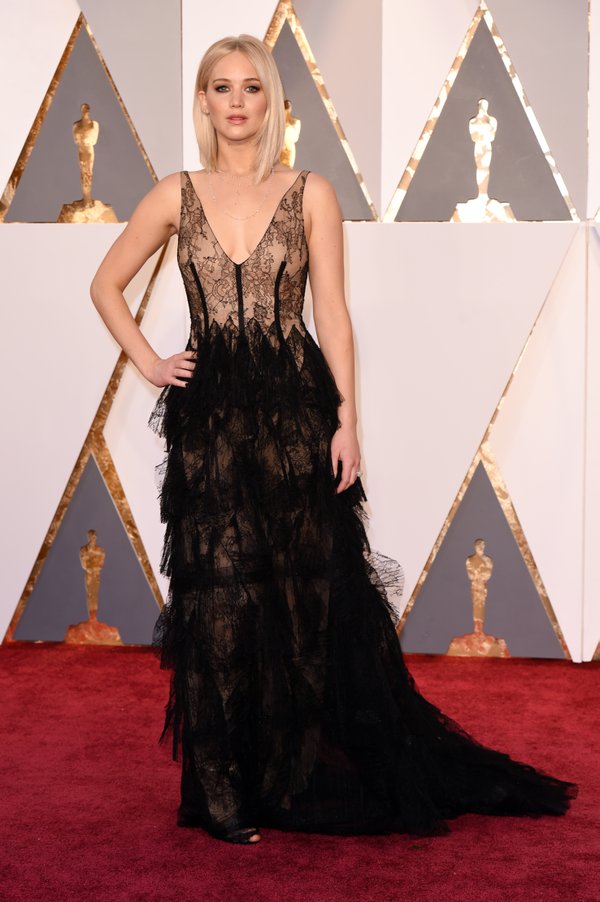 Battle of the Best Actresses: Julianne Moore Vs. Cate Blanchett
A pair of Best Actress winners brought their fashion A-game to the Oscars on Sunday night. Julianne Moore was all about black lace and beautiful embroidery in Chanel Haute Couture. Cate Blanchett flew in like an otherworldly bird in feather-embellished Armani Prive.
B: This was close. Winner by a slight margin was Cate Blanchett. She looked radiant in her sea foam green gown. The intricate feather details were just the perfect amount and her Tiffany jewelry – look at those earrings – were breathtaking!
K: Cate Blanchett is my favorite for this year's Oscar. She's the epitome of glamour! The color, shape and intricate detail is perfection.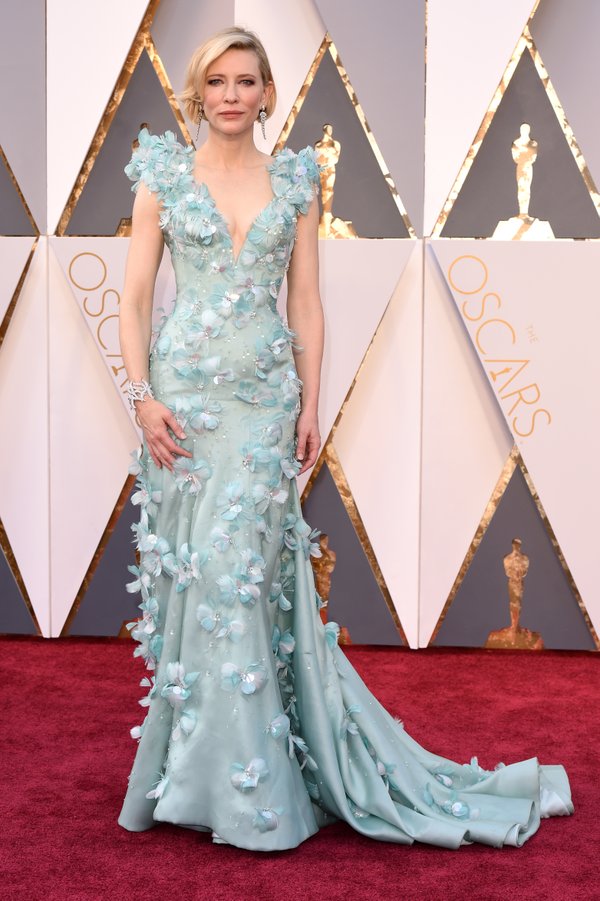 Bettina and Kiko