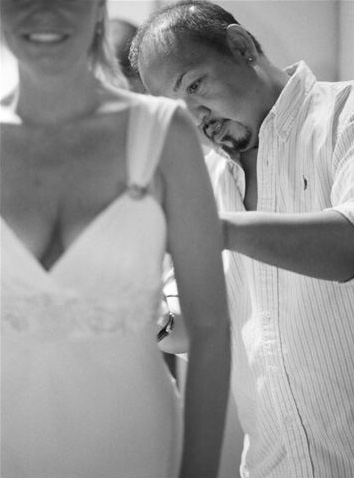 working with kiko is like having your own personal stylist. Everything starts when you first come in. In a relaxed atmosphere, you can tell him about your dream wedding, or simply show him pictures of your ideal gown. He will then personalize this for you in an illustration, carefully considering your choice in silhouettes, details, and price range. Guiding you along the way, he will help you choose from the finest fabrics, to everything that goes on every inch of your gown. No detail is too small – insets, pleats, draping, laces, trims, embroideries, crystals, pearls, and beads! Kiko is there to ensure that your entire bridal ensemble is impeccably coordinated. At your request, he can also create an original look just for you. Kiko's designs are always based on his clients' personal preference and style. His goal is to create an heirloom-quality dress that expresses a bride's ultimate vision.Together you will create a one-of-a-kind, heirloom quality bridal gown–elegant, sophisticated, rich, and truly haute couture.
Introducing Kiko Couture At-Home-Atelier! 
Experience personalized service in Kiko's quiet residence, or in the convenience of your own home.  Imagine a stress-free one-on-one with your designer, minus the hassle of parking and the noise and bustle of the city.
Your journey to that one-of-a-kind dream dress begins by making an appointment with Kiko